Digital
Skills </>
Digital skills courses for students
As we head towards a much needed break, just a quick message to let you know that the programme of digital skills courses for the first part of the Spring Term is now open for enrolment. The schedule includes, Microsoft Office Specialist courses and qualifications, web design fundamentals, Microsoft Teams training, a course on managing your documents and a series on the digital skills needed for teaching.
All our courses are free and lead to qualifications and digital badge certifications: proof of your digital skills, which you easily share with your peers and employers through LinkedIn and social media.
Microsoft Office Specialist courses and qualifications
Microsoft Office Specialist courses and qualifications are available for Excel, Word, PowerPoint and Outlook. These comprehensive training courses lead to official Microsoft qualifications and digital badges.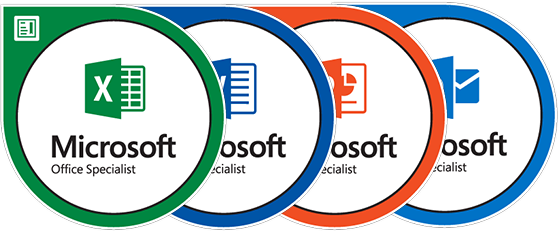 The courses have been updated for the latest version of the Office suite (365/2019) and will provide you with the principle skills you need to use the software not just effectively, but efficiently. At the heart of each course is an award-winning e-learning package* that allows you study the material in a semi-flexible way. The e-learning is complemented by live Key Concept sessions that are open to all (Key Concept sessions will open for sign-up in January).
Web Design Fundamentals

The Web Design Fundamentals course is for anyone interested in developing the technical skills needed to create, edit and style web pages using HTML and CSS. The course leads to an Information Technology Specialist qualification and digital badge.

Like the Office courses, the core of the course is a comprehensive, bespoke, semi-flexible e-learning course that is complemented by ten Key Concept sessions.
Tools for Teaching
Tools for Teaching focuses on the software, skills and practices that can enhance the learning experience for learners. The series is aimed at staff who teach but may be useful to some students. The series covers using Teams in teaching, creating online quizzes, Microsoft Sway and working with video.
For full course details and to sign-up, visit the IT Training website: ittraining.cardiffmet.ac.uk. Questions? Email us: ittraining@cardiffmet.ac.uk
*Certiport Centre of Excellence 2020 and Learning Pool Awards 2019 – Learner Engagement, Highly Commended.
Sgiliau
Digidol </>
Sesiynau Cynefino a Hyfforddiant Sgiliau Digidol i fyfyrwyr
Gallwch nawr gofrestru ar gyfer rhaglen o gyrsiau sgiliau digidol ar gyfer rhan gyntaf Tymor y Gwanwyn. Mae'r amserlen yn cynnwys cyrsiau a chymwysterau arbenigol Microsoft Office, hanfodion dylunio gwefannau, hyfforddiant Microsoft Teams, cwrs ar reoli eich dogfennau a chyfres ar y sgiliau digidol sydd eu hangen ar gyfer addysgu.
Mae ein cyrsiau i gyd yn rhad ac am ddim ac yn arwain at gymwysterau ac ardystiadau bathodynnau digidol: prawf o'ch sgiliau digidol, y gallwch eu rhannu'n hawdd gyda'ch cyfoedion a chyflogwyr trwy LinkedIn a'r cyfryngau cymdeithasol.
Cyrsiau a Chymwysterau Microsoft Office Specialist
Mae cyrsiau a chymwysterau Microsoft Office Specialist ar gael ar gyfer Excel, Word, PowerPoint ac Outlook. Mae'r cyrsiau hyfforddi cynhwysfawr hyn yn arwain at gymwysterau swyddogol Microsoft a bathodynnau digidol.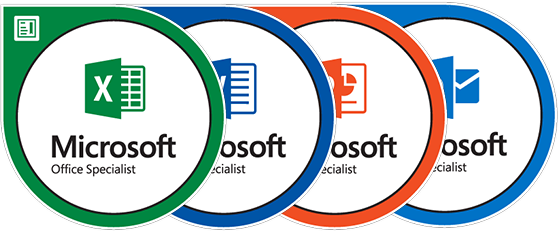 Mae'r cyrsiau wedi'u diweddaru ar gyfer y fersiwn ddiweddaraf o'r gyfres Office (365/2019) a byddant yn rhoi'r prif sgiliau sydd eu hangen arnoch i ddefnyddio'r feddalwedd nid yn unig yn effeithiol ond yn effeithlon. Wrth wraidd pob cwrs mae pecyn e-ddysgu arobryn* sy'n eich galluogi i astudio'r deunydd mewn ffordd lled-hyblyg. Ategir yr e-ddysgu gan sesiynau Cysyniad Allweddol byw sy'n agored i bawb.
Hanfodion Dylunio Gwe

Mae'r cwrs Hanfodion Dylunio Gwe ar gyfer unrhyw un sydd â diddordeb mewn datblygu'r sgiliau technegol sydd eu hangen i greu, golygu ac arddull tudalennau gwe gan ddefnyddio HTML a CSS. Mae'r cwrs yn arwain at gymhwyster Arbenigwr Technoleg Gwybodaeth a bathodyn digidol.

Fel y cyrsiau Office, dyma gwrs e-ddysgu cynhwysfawr, pwrpasol, lled-hyblyg sy'n cael ei ategu gan ddeg sesiwn Cysyniad Allweddol.
Adnoddau ar gyfer Addysgu
Mae Tools for Teaching yn canolbwyntio ar y feddalwedd, y sgiliau a'r arferion a all wella profiad dysgu i ddysgwyr. Mae'r gyfres wedi'i hanelu at staff sy'n addysgu ond gallai fod yn ddefnyddiol i rai myfyrwyr. Mae'r gyfres yn cynnwys defnyddio Teams wrth addysgu, creu cwisiau ar-lein, Microsoft Sway a gweithio gyda fideos.
I gael manylion llawn y cwrs ac i gofrestru, ewch i wefan Hyfforddiant TG: ittraining.cardiffmet.ac.uk. Cwestiynau? E-bostiwch ni: ittraining@cardiffmet.ac.uk
*Certiport Centre of Excellence 2020 and Learning Pool Awards 2019 – Learner Engagement, Highly Commended.
View as a Web Page

Library and Information Services | Cardiff Metropolitan University
Llyfregell a Gwasanaethau Gwybodaeth | Prifysgol Metropolitan Caerdydd