Digital
Skills </>
Get digital skills relevant to you and evidence to prove it
Cardiff Met's Digital Skills Framework provides an excellent opportunity to develop and prove digital skills that are most relevant to you.
The Spring Term schedule includes sessions that introduce the framework, together with a full programme of training and certification including: Microsoft Office Specialist, web design, programming and technical training, Teams, document management, Photoshop, survey design, new courses and certifications for educators and a lot more!
Digital Skills Framework
Cardiff Met's Digital Skills Framework provides a way for staff and students to:
Identify digital skills development areas that are relevant to you.
Develop those digital skills by using a curated bank of resources and training.
Certify your skills to provide evidence of your professional development.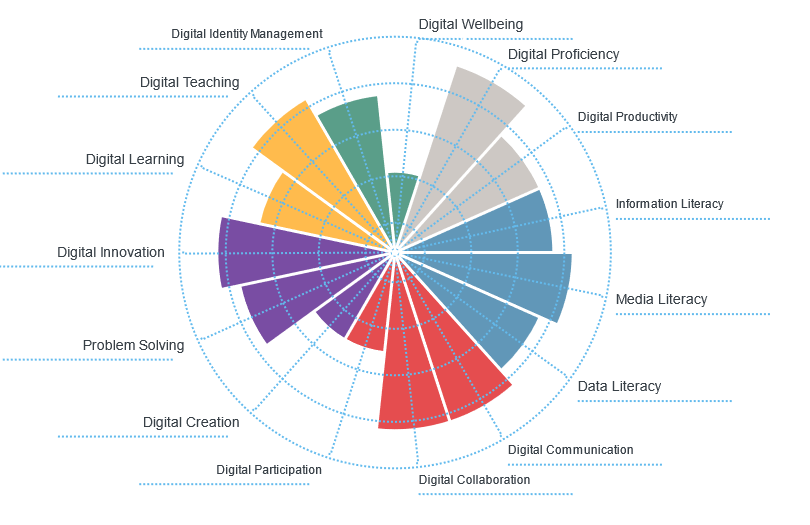 The framework is comprised of:
the Discovery Tool that helps you reflect on your digital skills and practices,
a report that breaks down your strengths and areas for development,
training courses and resources to develop skills that most relevant to you and
qualifications and certification options to prove your digital skills.
To get started, you can attend an Digital Skills Framework Introductory Session or use the Quick Start option.
The Discovery Tool will help you pick out training and resources that are most relevant to you, but all our courses, exams and qualifications are available to all students, for free! Here's what's on offer in the Spring Term.
Spring Term digital skills courses & qualifications
Microsoft Office Specialist courses and qualifications
Microsoft Office Specialist courses and qualifications are available for Excel, Word, PowerPoint and Outlook. These comprehensive training courses lead to official Microsoft qualifications and digital badges.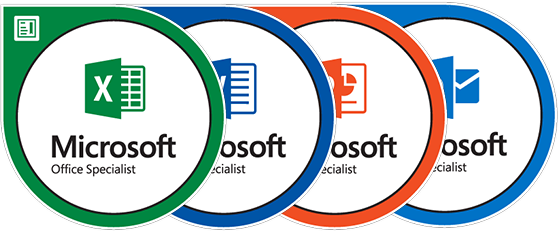 The courses provide you with the principal skills you need to use the software not just effectively, but efficiently. At the heart of each course is an award-winning e-learning package* that allows you study the material in a semi-flexible way. The e-learning is complemented by live Key Concept sessions that are open to all.
If you are one of the 1026 Cardiff Met staff or students who have already passed a Specialist level qualification, why not take an Advanced Microsoft Office Specialist to prove you have expert level skills!
Information Technology Specialist – technical training and qualifications
The Web Design Fundamentals course is for anyone interested in developing the skills needed to create, edit and style web pages using HTML and CSS. The course leads to an Information Technology Specialist qualification and digital badge – proof of foundational technical skills.
There are ten other courses and qualifications in the Information Technology Specialist (ITS) family covering topics such as programming with Javascript, Python or Java; databases; app development; software development; cybersecurity and networking. All available to Cardiff Met students for free!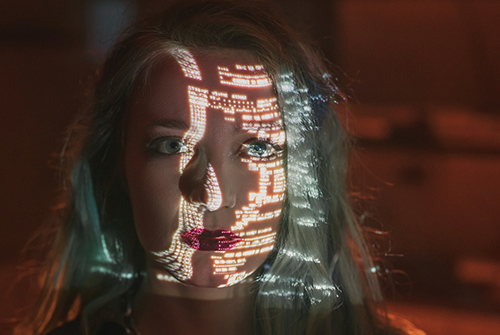 The heart of each course is a comprehensive package of e-learning that is complemented by optional Thinking Like a Programmer Key Concept sessions.
Preparing Images with Photoshop

The Preparing Images with Photoshop Foundation course will teach you how to use Photoshop to prepare and enhance images, whether they are for presentations, documents or publishing them to the web, this course will help you get your images looking great.

Online Survey Design with Qualtrics

Qualtrics is Cardiff Met's survey software that any student or member of staff can use to create, distribute and analyse surveys. Learn the basic principles of good survey methodology and the technical skills required to create effective surveys with the Designing Effective Surveys with Qualtrics course.
Tools for Teaching

The Tools for Teaching series is targeted primarily at staff who teach, but some sessions will be useful to students.

The series explores the software, skills and practices that can enhance the learning experience for students. The topics covered include designing content – slides, video, social media - with Canva, using Sway in teaching, Teams for Teaching and creating online quizzes.
Microsoft Educator Programmes

New for this term are the Microsoft Educator Programmes. These professional development programmes develop digital skills and practices that can aid in the delivery of innovative teaching.

Both programmes lead to Microsoft certification and are available to Cardiff Met students and staff for free.
Later in the term, there are courses on Building a Website with WordPress, Effective Infographics and a series on Streamlining Business Processes.
Visit the Digital Skills website for full details and to sign-up.
Sgiliau
Digidol </>
Enillwch sgiliau digidol sy'n berthnasol i chi a thystiolaeth i'w profi
Mae Fframwaith Sgiliau Digidol Met Caerdydd yn rhoi cyfle gwych i ddatblygu a phrofi'r sgiliau digidol sydd fwyaf perthnasol i chi. Mae amserlen Tymor y Gwanwyn yn cynnwys sesiynau sy'n cyflwyno'r fframwaith ynghyd â rhaglen lawn o hyfforddiant ac ardystiad gan gynnwys Microsoft Office Specialist, hyfforddiant rhaglennu a thechnegol, Teams, rheoli dogfennau, Photoshop, dylunio arolygon a llawer mwy.
Fframwaith Sgiliau Digidol
Mae Fframwaith Sgiliau Digidol Met Caerdydd yn rhoi ffordd i staff a myfyrwyr:
Adnabod meysydd datblygu sgiliau digidol sy'n berthnasol i chi.
Datblygu'r sgiliau digidol hynny trwy ddefnyddio cronfa wedi'i churadu o adnoddau a hyfforddiant.
Ardystio eich sgiliau i ddarparu tystiolaeth o'ch datblygiad proffesiynol.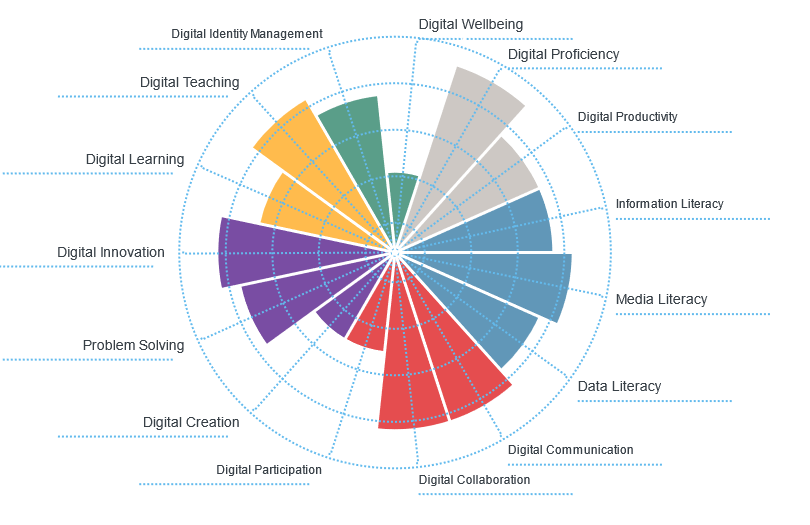 Mae'r fframwaith yn cynnwys:
yr Adnodd Darganfod sy'n eich helpu i fyfyrio ar eich sgiliau ac arferion digidol presennol,
adroddiad sy'n dadansoddi eich cryfderau a meysydd i'w datblygu,
cyrsiau hyfforddi ac adnoddau i ddatblygu'r sgiliau sydd fwyaf perthnasol i chi, a
chymwysterau ac opsiynau ardystio i brofi eich sgiliau digidol.
I ddechrau arni, gallwch fynychu Sesiwn Ragarweiniol y Fframwaith Sgiliau Digidol neu ddefnyddio'r opsiwn Cychwyn Cyflym.
Bydd yr Adnodd Darganfod yn eich helpu i ddewis yr hyfforddiant a'r adnoddau sydd fwyaf perthnasol i chi, ond mae ein holl gyrsiau, arholiadau a chymwysterau ar gael i bob myfyriwr, am ddim! Dyma beth sydd ar gynnig yn Nhymor y Gwanwyn.
Cyrsiau a chymwysterau Tymor y Gwanwyn 2023
Cyrsiau a Chymwysterau Microsoft Office Specialist
Mae cyrsiau a chymwysterau Microsoft Office Specialist ar gael ar gyfer Excel, Word, PowerPoint ac Outlook. Mae'r cyrsiau hyfforddi cynhwysfawr hyn yn arwain at gymwysterau swyddogol Microsoft a bathodynnau digidol.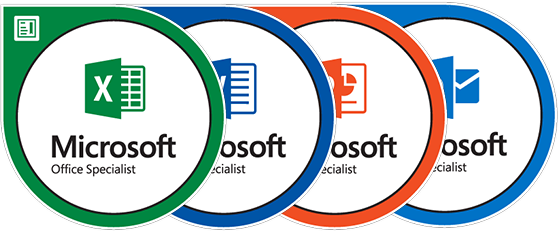 Mae'r cyrsiau wedi'u diweddaru ar gyfer y fersiwn ddiweddaraf o'r gyfres Office (365/2019) a byddant yn rhoi'r prif sgiliau sydd eu hangen arnoch i ddefnyddio'r feddalwedd nid yn unig yn effeithiol ond yn effeithlon. Wrth wraidd pob cwrs mae pecyn e-ddysgu arobryn* sy'n eich galluogi i astudio'r deunydd mewn ffordd lled-hyblyg. Ategir yr e-ddysgu gan sesiynau Cysyniad Allweddol byw sy'n agored i bawb.
I'r rhai sydd eisoes wedi pasio cymhwyster lefel Arbenigol, beth am ddilyn Microsoft Office Specialist Uwch i brofi bod gennych sgiliau ar lefel arbenigol!
Arbenigwr Technoleg Gwybodaeth – hyfforddiant technegol a chymwysterau
Mae'r cwrs Hanfodion Gwe-Ddylunio ar gyfer unrhyw un sydd â diddordeb mewn datblygu'r sgiliau sydd eu hangen i greu, golygu ac arddullio tudalennau gwe gan ddefnyddio HTML a CSS. Mae'r cwrs yn arwain at gymhwyster Arbenigwr Technoleg Gwybodaeth a bathodyn digidol – prawf o sgiliau technegol sylfaenol.
Mae deg cwrs a chymhwyster arall yn y teulu Arbenigwr Technoleg Gwybodaeth sy'n ymdrin â phynciau fel rhaglennu gyda Javascript, Python neu Java; cronfeydd data; datblygu apiau; datblygu meddalwedd; seiberddiogelwch a rhwydweithio. Maen nhw i gyd ar gael i fyfyrwyr Met Caerdydd am ddim!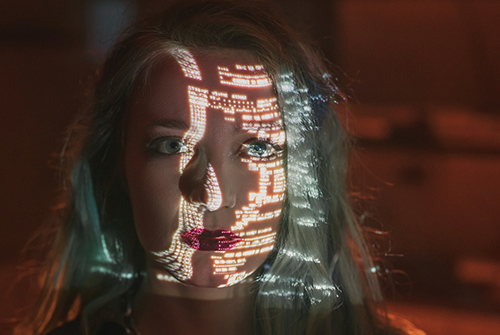 Pecyn e-ddysgu cynhwysfawr yw calon pob cwrs, sy'n cael ei ategu gan sesiynau Cysyniad Allweddol dewisol y gellir eu mynychu yn y cnawd neu ar-lein.
Paratoi Delweddau gyda Photoshop

Bydd y cyrsiau Paratoi Delweddau gyda Photoshop yn eich dysgu sut i ddefnyddio Photoshop i fireinio delweddau. P'un a ydynt ar gyfer cyflwyniadau, dogfennau neu i'w cyhoeddi ar y we, bydd y cyrsiau hyn yn eich helpu chi i sicrhau bod eich delweddau'n edrych yn wych.

Dylunio Arolygon Ar-lein gyda Qualtrics

Meddalwedd arolygon Met Caerdydd yw Qualtrics y gall unrhyw fyfyriwr neu aelod o staff ei defnyddio i greu, lledaenu a dadansoddi arolygon. Dysgwch am egwyddorion sylfaenol methodoleg arolygon da a'r sgiliau technegol sydd eu hangen i greu arolygon effeithiol gyda'r cwrs Dylunio Arolygon Effeithiol gyda Qualtrics.
Adnoddau ar gyfer Addysgu

Mae'r gyfres Adnoddau ar gyfer Addysgu wedi'i thargedu'n bennaf at staff sy'n addysgu, ond bydd rhai sesiynau'n ddefnyddiol i fyfyrwyr hefyd.

Mae'r gyfres yn archwilio'r meddalwedd, y sgiliau a'r arferion a all wella'r profiad dysgu i fyfyrwyr. Mae'r pynciau a drafodir yn cynnwys dylunio cynnwys – sleidiau, fideo, cyfryngau cymdeithasol – gyda Canva, defnyddio Sway wrth addysgu, Teams ar gyfer Addysgu a chreu cwisiau ar-lein.
Yn ddiweddarach yn ystod y tymor, ceir cyrsiau Adeiladu Gwefan gyda WordPress, Ffeithluniau Effeithiol a chyfres ar Symleiddio Prosesau Busnes.
Ewch i'r wefan Sgiliau Digidol i gael y manylion llawn ac i gofrestru.
View as a Web Page

Library and Information Services | Cardiff Metropolitan University
Llyfregell a Gwasanaethau Gwybodaeth | Prifysgol Metropolitan Caerdydd